SATURN ELECTRICAL INSULATION & THERMAL HEAT BARRIER ADVANTAGES
Over 45 year history of solving industry's most difficult wear problems.
Saturn's unique rod-form ceramic coatings are 100% molten at application.
Most other coatings are powder based & at best 80% molten which dramatically affects performance.
Our application delivers ceramic to the substrate with greater kinetic energy & thermal mass resulting in higher substrate
and particle-to-particle cohesive bonding.
Unparalleled protection in abrasive, thermal and electrical applications.
You get the best without paying more. Our coatings are very competitively priced and provide an outstanding value over time.
Many companies specify Saturn Ceramic Company on their blueprints to ensure they use the best. There is no better testament to our high quality and superior performance.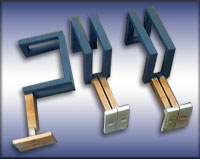 INDUCTION HEATING/ WELDING/ HEAT DEGRADATION PROTECTION
Saturn's rod-form ceramic provides unsurpassed electrical non-conductivity, thermal barrier and abrasive protection. Increases overall value of parts with durable, uniform coatings.
Extends the life of expensive coils and other components. Prevents arcing between parts and coils, centers, nests, etc. Reduces wear and heat transfer on rails, shields, rollers, etc.
Saturn's unique application process does not overheat parts avoiding distortion or warping and ensuring essential specifications are maintained.
Over 30 years of experience coating induction, welding, forging and other critical components for world-class companies where the best protection available is required.
FORGING SKID RAILS AND ROLLERS
Skid rails and rollers used in induction heating forging operations are subject to extreme heat and
severe abrasion conditions guiding billets through the heating coils.
Forging Supervisors routinely inspect the rails for wear & cooling leaks. When the rails wear out,
they are typically replaced with new ones to maintain heating efficiency and avoid leaks.
Our coating can make these parts and countless other wear items last much longer. And, instead of
scrapping the parts after one use, our coating can be reapplied to save even more money.