Our outstanding reputation often precedes us
For over 50 years Saturn Ceramic Coating has been providing unsurpassed wear resistant coatings to industry:
PUMPS: Dupont, Nascote Industries, Michigan Sugar, Solae Remington

SPINDLES: Timken, Torrington, Ford, Caterpillar, GE, Whirlpool

BUFFING: ITW Industrial Finishing, Acme Manufacturing, Kohler Faucet

INDUCTION/ FORGING: Inductoheat, Ajax Tocco, Tucker, Electroheat, Trenton Forging
Engineers and maintenance department heads specify Saturn Ceramic Coating Company on blueprints
to ensure quality and performance.
What other coating companies don't want you to know

Rod-form ceramic coatings are better
Saturn Ceramic Coating specializes in applying rod-form ceramic- the hardest,
most wear-resistant coating.
ABRASIVE APPLICATIONS:
Greatly extends wear life of pump shafts, cylinders, wear sleeves, grinder spindles, seal surfaces,
forging skid rails and other rotational or reciprocating wear areas.
ELECTRICAL & THERMAL APPLICATIONS:
Protects expensive equipment by insulating induction coils, parts nests, welding locator pins,
heat shields and other components to provide an electrical or thermal barrier.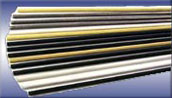 Our ceramic coatings last longer.. so your parts last longer
Excellent rotational and reciprocating wear resistance along with unparalleled thermal protection & electrical non-conductivity.

Saturn's rod-form ceramic application is the most difficult ceramic coating to apply and to finish.

Saturn's rod-form process introduces a fused ceramic rod to a 5600-degree (F) flame. The 100% molten ceramic is blown onto the substrate at speeds up to 550 feet per second.

Saturn's rod-form process delivers ceramic to the substrate with greater kinetic energy and thermal mass for higher particle-to-particle cohesive bonding.

Heat transfer is 50% lower than with other application methods which avoids part warpage or distortion.
The "new" technology is not the answer

Other companies have tried to spray rod-form ceramic and found it difficult or impossible to correctly
apply and accurately finish- this has been the catalyst for the so called "new" technology coatings.

The "new" technology coatings are much easier to apply & finish. Attributes which benefit the
applicator, but result in an inferior coating.

The maximum amount of these powdered-form ceramics that reaches the molten state is 80% and
could be as low as 20%. If it's not fully molten it won't bond properly either to the working particles or to the substrate.

With powder-based coatings thermal nonconductivity, electrical insulation and wear resistance are all compromised.

Parts can be distorted during application due to extreme heat.
What we also do for our customers
Ancillary Machining – Prep & Finish Work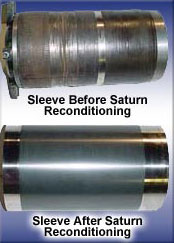 Top quality machining prep work (turning, milling and welding) prior to coating and finishing parts to exacting tolerances.
Roundness to within 20 millionths (.00002)

Concentricity to within 50 millionths (.00005)

Finish to a 9 micro RMS

Straightness to within 50 millionths (.00005)

It is amazing what we can do with worn parts. Our remanufactured parts are often restored to better than original condition.
Manufacturing to Print – Complete Parts
Our parts meet all requirements as specified in your blueprints.
Spindles

Pump shafts

Pump cylinders

Locator pins

Buffing fixtures