"This coating helps us control our maintenance costs and reduce the amount of time our pumps are
down for inspection and repair."

"We're seeing a $5,409 total Savings per pump... SO FAR!"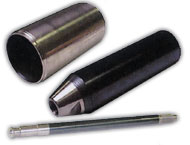 Success Story: Nascote Industries - Paint Pumps
In February 1996, this major automotive supplier had their first paint pump shaft and cylinder treated with Saturn's rod-form ceramic coating. Previously the OEM shafts, cylinders and seal/packings stacks were lasting only 3 or 4 months.
3 months after installation, the parts were inspected and showed no signs of wear to pump shaft OD, the cylinder ID or any of the seals/packings. Additional pumps were treated.
After one year of monitoring and successful use, it was determined that pump inspections could reduced by 50%.
Today, 6 years later, not one of Saturn's many coated shafts or cylinders have shown the slightest
evidence of wear and the seals/packings are lasting over twice as long.
Saturn Ceramic:
Pump Parts and Related Costs 6 Year Cost Comparison
Initial Cost
Total Annual Costs (x6)
6 Year Total
OEM Parts
(Graco High-Flo Pump)
$1.178
$1,176
$8,234
OEM Parts with OEM Wear Coating
(ITW/Binks Pump)
$1,558
$1,848
$12,646
Saturn Ceramic Coating Co. Parts
$1,985
$140
$2,825